John Bean is the world leader in automotive wheel service equipment technology. We combine quality with affordability in all of our products to help you meet your demands. Feel free to browse our site and learn more about how John Bean products can boost your businesses profitability.
Press Releases
---
New John Bean VAS 701 001 Wireless Alignment Systems Approved for all Volkswagen Group Vehicles
Conway, AR - May 12, 2016 -- The Volkswagen Group has approved the new John Bean® VAS 701 001 Wireless Wheel Alignment System for use in all its dealerships and VAG vehicles...
---
John Bean B800P Fully Automatic Wheel Balancer Makes Life Easier for Shops
Conway, AR - April 21, 2016 -- Fully loaded with efficiency enhancing features, the new John Bean® B800P Wheel Balancing System makes life easier for shops looking for speed, performance and producivity...
---
Innovative Productivity Solutions from John Bean on Display at NADA
Conway, AR - March 31, 2016 -- Conway, AR -- March 31, 2016 -- Looking for new ways to improve performance and productivity in the service bay? Representatives from John Bean can show you how as they demonstrate the complete line of John Bean® wheel aligners, balancers, tire changers, lifts and audit systems at booth 555C during the 2016 National Automobile Dealers Association (NADA) Convention and Expo, March 31 through April 3 at the Las Vegas Convention Center in Las Vegas, Nevada...
---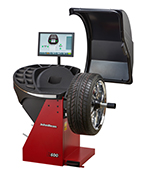 New John Bean Video Balancers: Productive Features to Benefit Any Size Shop
Conway, AR - January 19, 2016 -- Whether your shop does one wheel balancing job a week or several per day, the new line of John Bean® Video Wheel Balancers has the perfect product to meet you shop's needs, according to Brian Gates, product manager for John Bean...
---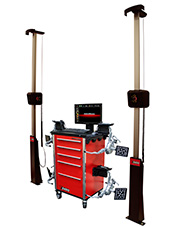 New Look for John Bean Aligner Cabinets: More Storage and Protection
Conway, AR - September 15, 2015 - Sporting a new look, the new John Bean® Aligner cabinets deliver more internal storage space while, at the same time, taking up less space in the shop. These two sleek cabinets also feature new clamp holders that are more integrated with the cabinet for better support...