Product Overview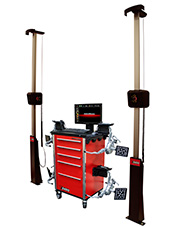 EEWA553B, EEWA553BE, EEWA553H, EEWA553HE, EEWA553J
The John Bean V3400 Wireless Imaging Wheel Alignment System provides flexible installation, usage and mobility options. Patented digital camera tracking automatically adjusts to the height of the vehicle.
Productivity enhancing software: automated caster sweep, help videos, rolling radius, cross diagonal, A-arm adjust and EZ-TOE. Hardware and advanced design: Automatic vehicle height tracking, drive through configuration, wireless communication and high mobility.
Click on one of the section titles to learn more about the V3400 Wireless Imaging Wheel Alignment System

Features
---
Wireless Communication - eliminates connections between the camera towers and the cabinet to ease mobility and provides a variety of installation configuration
Continous third camera calibration provides accurate readings and reliable alignment results

---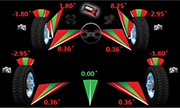 Automatic Vehicle Height Tracking - the camera system follows the height of the vehicle, eliminating the need to adjust the aligner when you move the lift
Get readings in less than two minutes on a wide variety of vehicles and wheel sizes
Comprehensive vehicle specification database with frequent updates ensures you always have the information to do the job right
---
System automatically detects when the steering wheel is turned and initiates the caster sweep function saving teim and eliminating error.
---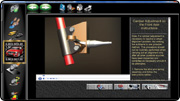 View detailed videos of how to make needed adjustments to complete even the most complex tasks.
---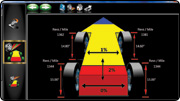 Identify mismatched tire sizes - a potential cause of vehicle pulling and drive train damage.
Back to Features List | *US Patent 6,237,234
---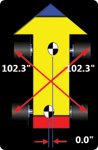 Identify frame or structural issues before alignment adjustments are made.
Back to Features List | *US Patent 6,823,246
---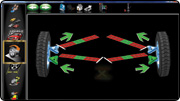 Compound meter provides visual reference for simultaneous caster and camber adjustment for vehicles with adjustable control arms.
---
Compund meter provides visual reference for simultaneous SAI and caster adjustment for vehicles with front sub-frames/cradles.
---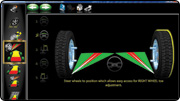 Turn the front wheels and access difficult adjustment points while still displaying centered toe readings.
John Bean AC400 Touchless Alignment Wheel Clamping System With XD Targets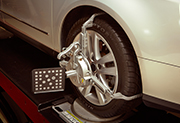 Secure Clamping Without Touching the Rim
Only the tire is contacted.
Clutch limited clamping force ensures accurate and repeatable results.
Durable and lightweight magnesium construction.
---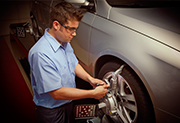 Fast and Easy to Use
Clamping is accomplished with a single fast-action knob.
No accessories needed to accommodate the full range of tire sizes.
Large, comfortable handle allows ergonomic use.
XD targets are lighter and take up less space than previous designs.
---
Additional Features
Clamping on the Tire - The clamp only engages the tire eliminating contact with the rim.
Fast - Single point adjustment knob adjusts to the full size range in just a few turns.
Ergonomic Design - Large handle and intuitive tightening knob are easy to operate and accomodate gloved hands.
Self Centering Design - Allows measurement of cross diagonal and tire rolling radius to reveal collision damage and mismatched tire sizes.
Lightweight and Durable - Drop tested cast magnesium construction eases the weight that users have to carry.
Accurate and Repeatable - Secure clamping delivers accurate and highly repeatable results.
Secure - Clutch limited clamping force ensures consistent and secure attachment.
Specifications
Tire Diameter
19" - 39" (48.3cm - 99.1cm)
Track Width
48" - 96" (122cm - 244cm)
Wheel Base
79" - 180" (201cm - 457cm)
Shipping Weight
501 lbs (227kg)
Power Requirements
100-240V 1 Ph 50/60Hz
UL201, C22.2, CE Approved
Accessories
Standard Accessories
Optional Accessories
| Part Number | Description |
| --- | --- |
| EAK0305J50A | Dual Wheel Adaptors for AC400 Clamps |
| EAK0305J78A | Mobility Kit |
| EAK0305J58A | Portable Platforms for Towers |
| EAK0305J77A | Docking Cleats for Portable Platforms |
| EAK0289J86B | VIN Scanner |
| EAK0305J84A | AC200 Wheel Clamp Accessory Kit |
| EAK0320J85A | AC400 Wheel Clamp Accessory Kit |