Product Overview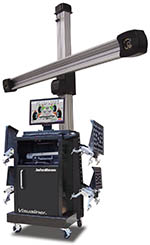 EEWA544AL
Uses Patented Imaging Technology to
Reduce Setup and Measurement Times.
Utilizing patented imaging technology, the V3D-EL provides accurate, real-time measurements - reducing setup and measurement times while generating serious productivity benefits. Matched with easy-to-use software, the V3D-EL wheel aligner will have your technicians getting readings in a matter of minutes. (Shown with Optional Variable-Height Camera Support)
* Requires Optional Variable-Height Camera Support (VHCS).

Click on one of the section titles to learn more about the V3D-EL Wheel Alignment System.
Features
---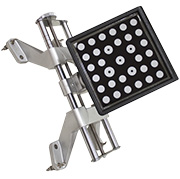 Digital cameras produce accurate, live alignment readings and diagnostic data
Passive front and rear targets improve durability with no electronics to damage
---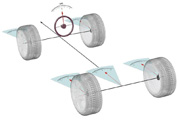 EZ-Link™ software alerts the technician of OEM service and maintenance procedures related to Electronic Stability Control and Electric Power Steering systems.
OEM instructions guide the technician through the process of resetting the steering angle sensors along with other sensors as required. EZ-Link™ includes manual as well as electronic resets.

---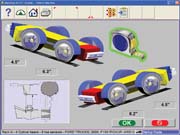 View detailed videos of how to make needed adjustments to complete even the most complex tasks
Refers to spare parts or special tools as applicable
---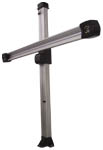 Variable-Height Camera Support (VHCS) (EAA0321J19C) - Shown with standard Camera Beam Assembly
Eliminates the need to fixed-position/level surfaces during alignments
---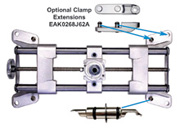 Handles wheel diameters ranging 13" to 24" (33cm to 61cm) standard. Increase clamping diameter to 28" (71cm) with Optional Clamp Extensions EAK0268J62A
Interchangeable grippers minimize wheel damage
---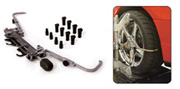 (EAK0268J63A) Clamp accurately and safely on the tire to avoid scratching the wheel
---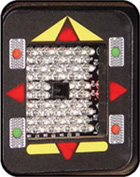 Vehicle Orientation Directional Indicator
Guides technician through measuring process
Reduces the amount of time spent walking back and forth from the vehicle to the aligner console
---
SAI and Thrust Angle
Included Angle
Toe Out On Turns/Max Turn
Front and Rear Toe
Front/Rear/All/Zoom Readings
FrameCheck™ Light Truck Frame Angle
Initial/Final Color Printouts
Individual Camber/Caster/Toe
Front Caster (-28° to +28°)
Front & Rear Camber (-15° to +15°)
Help Videos
A-Arm Adjustments
Adjust Camber Only
Elevated Adjustments
Rear Shim Programs
Multiple Lift Support (3)
EZ*Link™*
EZ*Toe™*
Live Caster, Camber and Toe - Turnplates
Live Caster, Camber and Toe - Elevated

Equalize Toe Warning
Adjust Front Before Rear Warning
Multiple Clamp Support
2-Wheel Alignment
32 Languages
Multiple Print Formats
Custom Vehicle Specifications
Regional Specifications
Integrated Help System (PDF)
Tools, Parts, and Adjustment Instructions
Advanced Customer Database with Backup/Restore
Multiple Units of Measure
Caster and SAI on Turnplates
SAI Elevated
NorthStar Shim Program
Light Truck Bushing
Vehicle Specs: 25+ years
Remote Control (Optional)
Variable-Height Camera Support Controls
---
Back to Features List | Back to Top | *Patented and/or Patent-Pending Features
Specifications
| | |
| --- | --- |
| Part Number | EEWA544AL |
| Tire Diameter | Up to 37" (94 cm) |
| Wheel Size | 13" - 24" (33 - 61 cm) |
| Track Width | 48" - 96" (122 - 244 cm) |
| Wheelbase | 79" - 180" (201 - 457 cm) |
| Color Printer | Included |
| Power Requirements | 120/230V 1Ph 50/60Hz |
Accessories
Standard Accessories
Optional Accessories
Optional Camera Support Configurations
Part Number
Description
EAA0321J19C
Variable-Height Camera Support
(Not compatible with EEWA541AL)
EAA0321J01A
Fixed-Height Camera Support
EAK0289J79A
FHCSE/ETCS Kit. Includes: Fixed-Height Camera Support Extended (FHCSE), Electronic-Tilt Camera System (ETCS), Universal Wheel Clamp Storage Brackets, Floor Anchoring Brackets, and Mounting Hardware
EAK0289J36A
Wall/Pit Camera Support (Adjustable 36" - 60". Includes Convex Mirror)
EAK0289J63A
Wall/Pit Camera Support (8")
EAK0289J64A
Electronic-Tilt Camera System