OEM TRUSTED EQUIPMENT: ACURA | BUICK | CADILLAC | CHEVROLET | CHRYSLER | DODGE | GENESIS | GMC | HONDA | HYUNDAI | JEEP | KIA | LEXUS | MAZDA | MITSUBISHI | RAM | TOYOTA | VOLVO
V3300 Diagnostic Wheel Alignment System
Work faster and smarter with the John Bean® V3300 Diagnostic Wheel Aligner.
The V3300 is a stand-alone wheel alignment system that utilizes advanced technology to guide technicians of all skill levels through the wheel alignment process. We've combined the fastest camera system ever offered by John Bean with advanced notification alerts and clever software flow to reduce alignment errors, as well as decrease overall alignment time.
This means you can push more alignments through with fewer errors; drastically increasing your productivity and boosting your revenue. The V3300 is the ultimate in wheel-alignment technology.
AVOID ERRORS
The advanced notification system on the V3300 instantly recognizes any error made during the alignment process and allows technicians to instantly correct the error during the alignment operation procedure. From suspension stress to uneven rack surfaces and loose components; the V3300 eliminates alignment errors and speeds up the entire alignment process.
REAL-TIME SUPPORT
Looking for real-time support? The V3300 goes beyond wheel alignment to offer critical, real-time data from OEM's such as repair information, TSBs, recalls, and TPMS reset procedures. This means less time searching for resources to get the job done right and more time pushing alignments through your shop.
ADAS INTEGRATION
ADAS calibration is a consistent reality for modern shops that perform alignment procedures on their customer's vehicles. Performing ADAS calibration accurately can be a constant source of productivity issues due to the sheer variety of procedures and the ever-changing OEM calibration requirements. The V3300 makes this task easy with real-time information on vehicle-specific ADAS procedures. Combine the V3300 with the John Bean Tru-Point™ recalibration system for ultimate productivity.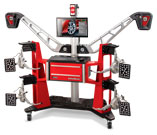 V3300 AC400 (EEWA552BV2):
This version includes the AC400 wheel clamps.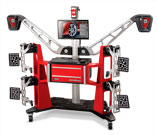 V3300 AC200 (EEWA552HV2):
This version includes the AC200 wheel clamps.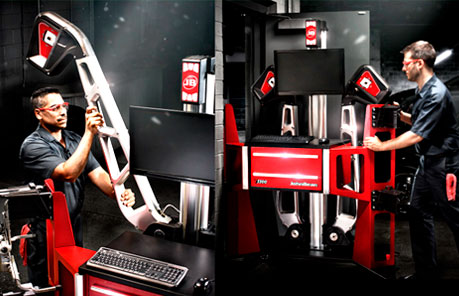 COMPACT CONSOLIDATED DESIGN
Efficient one-piece design with folding camera beam and integrated cabinet mobility allows the flexibility to move around the shop as needed.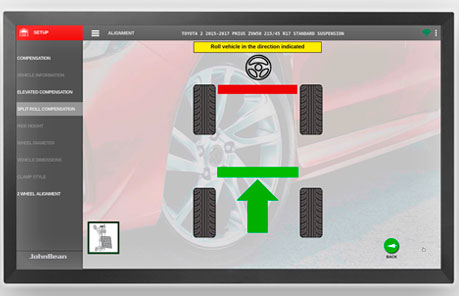 FAST COMPENSATION AND OPTIMIZED ALIGNMENT FLOW
Streamline workflow with fast measurement compensation and an optimized alignment flow that enhances productivity by eliminating unnecessary steps in the alignment process.
Built-in camera that allows the operator to view the vehicle as it being driven onto the lift, ensuring proper loading for alignment procedures.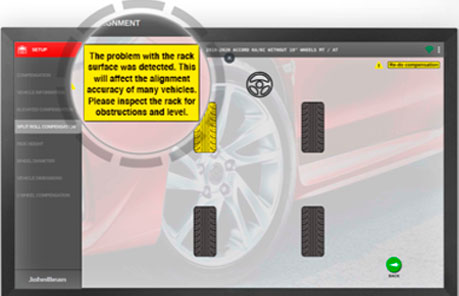 ADVANCED NOTIFICATION SYSTEM
The advanced notification system provides critical information without slowing down the alignment process, automatically detecting and compensating suspension stress issues or environmental errors, only notifying the technician when necessary to provide additional information for corrective action.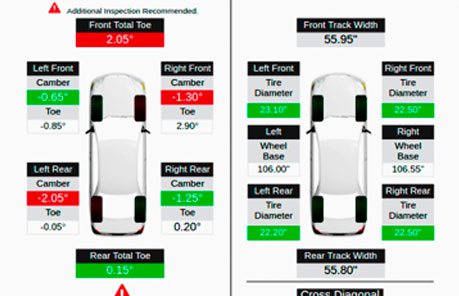 Quickly uncover extra service opportunities with alignment audit reports. This report includes measurement of track width, front and rear toe, camber, wheelbase, wheel diameter, and cross dimensions.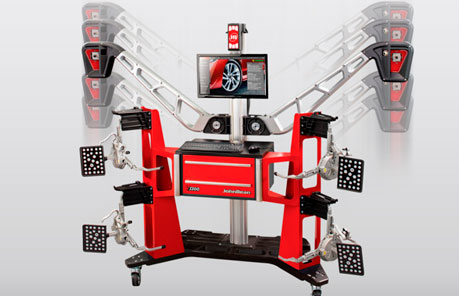 Automatic camera tracking eliminates the need to readjust the camera after raising the lift, while a continuously calibrating third camera retains ultimate accuracy.
Eliminate manual data entry, speed up measuring, and increase accuracy using our specially designed, optional Ride Height Targets.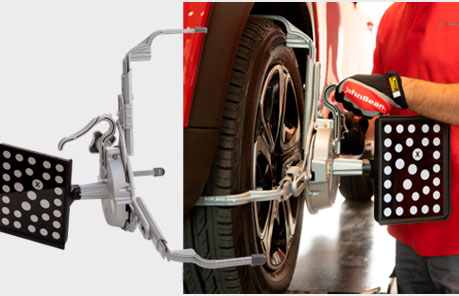 The clamp attaches to the tire with optimal force without touching the rim; ensuring a safe, fast, and consistent clamping experience.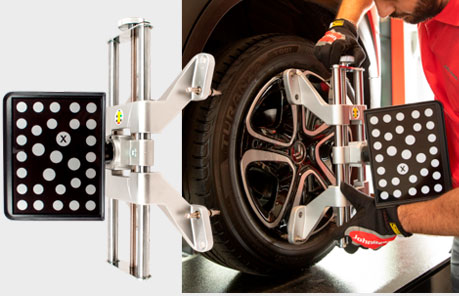 Fast and easy to use with self-centering design, two-sided claws provide reliable clamping, even over hub caps.