LET'S CONNECT YOU WITH THE MOST
QUALIFIED SALES FORCE
OEM TRUSTED EQUIPMENT: LUCID | RIVIAN | VINFAST
Tru-Point One-Stop ADAS Calibration Solution
Tru-Point™ is the one-stop solution for all of your ADAS calibration needs.
Utilizing state-of-the-art camera technology, easy-to-place targets, and advanced software; Tru-Point™ quickly checks for ADAS related alignment issues so your technicians can perform accurate ADAS calibration with ease. Tru-Point™ advanced technology also eliminates the need for a completely level shop floor and removes the guesswork of manual measurements to allow your technicians the ability to accurately place ADAS targets with ease.
Calibrate and prove by combining Tru-Point™ with any ADAS-capable scan tool to complete calibration, and receive proof of calibration in an easy-to-read report. This is the ultimate in easy ADAS calibration, with the validation you and your customers are looking for.
CHECK
Tru-Point™ uses highly advanced camera technology to create a 3D image of a vehicle and verify alignment in under a minute. This helps your technicians waste less time performing ADAS calibration for vehicles that do not meet OEM alignment specifications.
PLACE
Streamline the process of placing targets at precise OEM-required locations with Tru-Point™ technology. Think you need tape measures and a level floor to get the job done? Tru-Point™ makes this process seamless and guides this process automatically without the need for lasers, tape measures, or plumb bobs.
CALIBRATE
Designed to make life just a little bit easier, Tru-Point™ works with any ADAS-capable scan tool to complete the calibration process. Worried about constantly changing requirements and servicing newer vehicles? Tru-Point™ offers Manual Mode for Premium subscribers to set up and calibrate vehicles not yet in the database.
PROVE
Once Tru-Point™ validates the alignment of the vehicle, placement of the targets, and compliance with OEM specifications; it will generate an easy-to-use report that clearly shows compliance. This ensures that you are putting a safe vehicle back on the road and provides proof to your customer that will put their mind at rest.
BUILD YOUR OWN SYSTEM
Shop with confidence for calibration targets and the most current data for the vehicle makes and models you work with, ensuring that all your calibrations are done accurately and efficiently.

DOWNLOAD OUR AUGMENTED REALITY APP TO SEE TRU-POINT IN YOUR SHOP:

Our custom app will allow you to explore
Tru-Point™

in a whole new way – with both 3D and realistic Augmented Reality experience.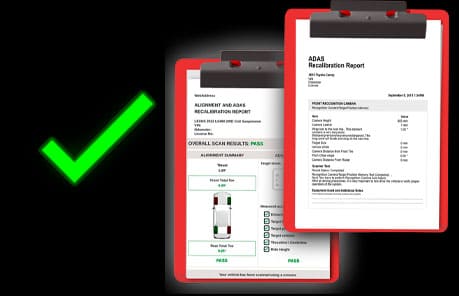 Perform a precise recalibration according to the OEM specifications.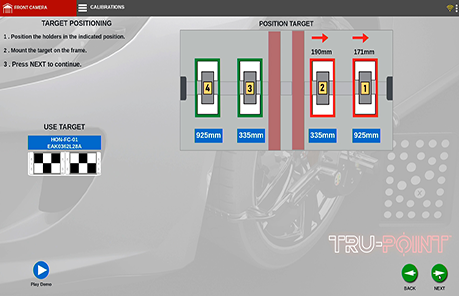 A simple color-coded system allows you to easily identify the exact location for target placement going from red to green.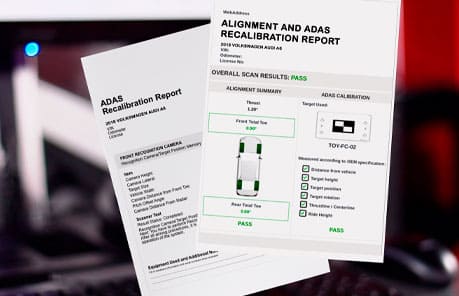 Tru-Point™ validates the alignment of the vehicle, placement of the targets, and compliance with OEM specifications.
THRUST LINE / CENTERLINE
DISTANCE FROM VEHICLE
TARGET ROTATION
TARGET POSITION
TARGET HEIGHT
RIDE HEIGHT
ALIGNMENT
STEERING ANGLE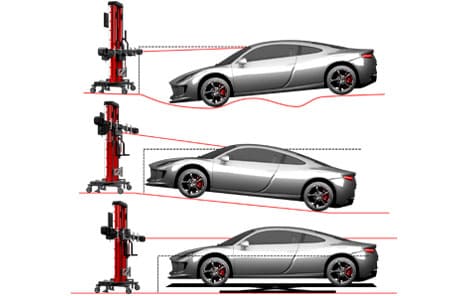 FLOOR COMPENSATION (LEVEL FLOOR NOT REQUIRED)
While most systems function by referencing the height of the vehicle from the shop floor, our system measures the height of the targets from the tire contact patch of all four wheels, allowing for the vehicle to be calibrated anywhere in the shop; even on an alignment rack.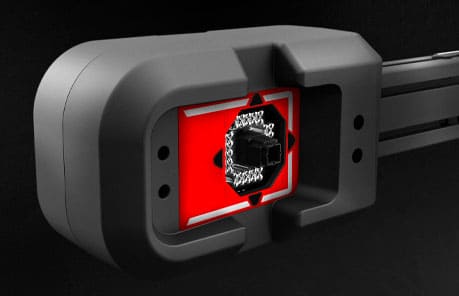 3D modeling capabilities allow the system to replace lasers and tape measures.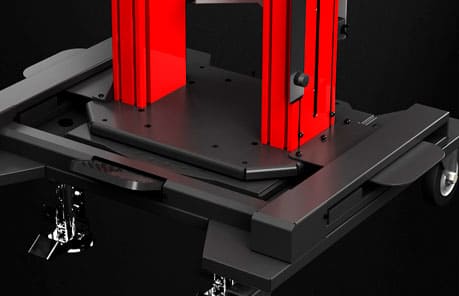 PRECISION BEAM ADJUSTMENT
Integrated with a turntable allowing you to easily perform the fine adjustment on the targets without extra effort.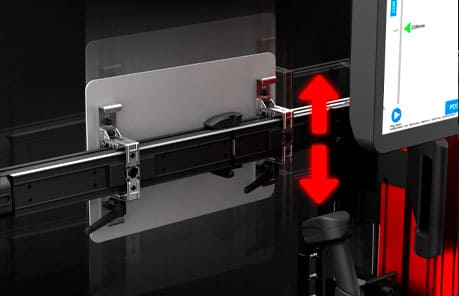 Release the brake on the right handle and freely move the beam up and down for target height.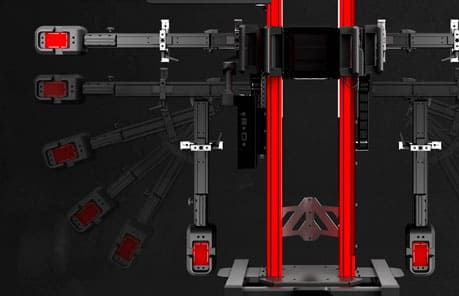 Provides you with a more compact system that's easy to store and delivers greater mobility.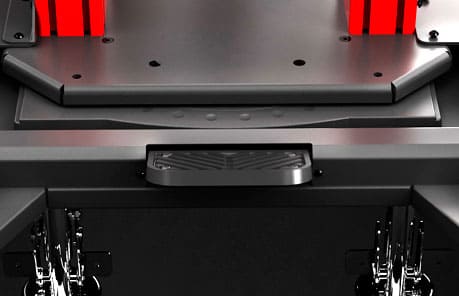 Allows you to move the beam back and forth without having to move the entire system.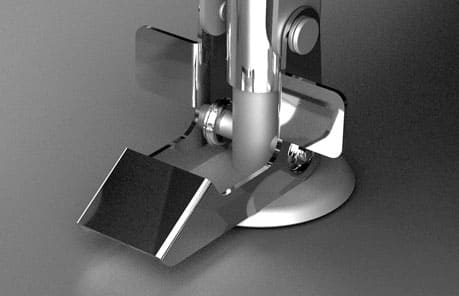 Push down on the locking mechanism, to provide extra stabilization and anchor the base to the floor.
EESE505B
EESE505A (Includes Deluxe Kit & Target Cart)
82″x113″x30″ | 208x287x76cm- Extended
82″x53″x30″ | 208x135x76cm – Folded
376 lbs. | 170.5 kg – Equipment
512 lbs. | 232.2 kg – Shipping