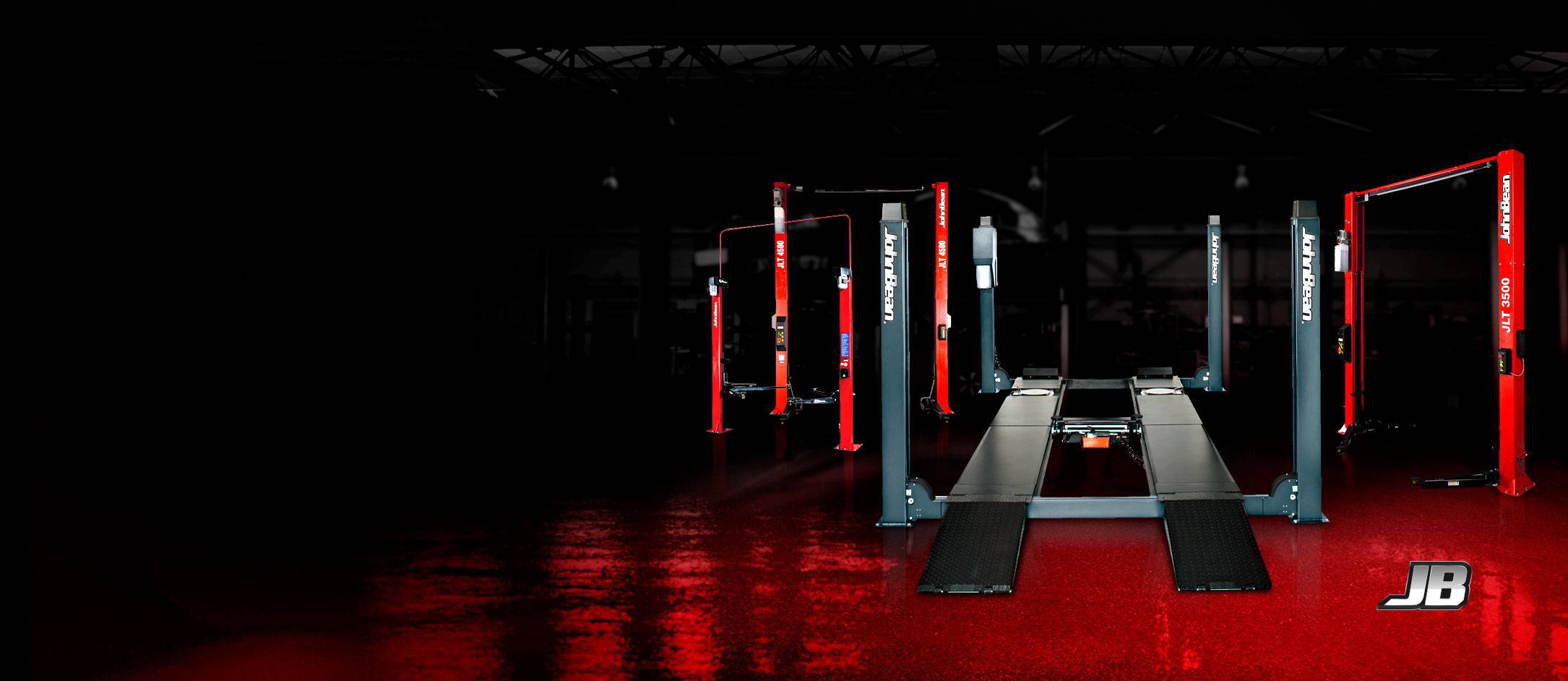 DURABILITY AND EASY OPERATION
Working on vehicles efficiently and safely is the core of running a successful automotive repair business. To achieve this goal, professional shops need the heavy lifting capability of a quality automotive lift that will allow technicians to quickly perform crucial repair and maintenance tasks with a high degree of safety. Auto lifts also need to stand up to the rigours of daily usage and be constructed of quality materials that require minimal maintenance and less repair downtime. John Bean® offers a selection of auto lifts designed to meet the needs of a wide variety of professional automotive applications and stand the test of time. From scissor alignment lifts to mobile column units, our vehicle lifts do the heavy lifting, so you can get to work on your customer's vehicles with ease.
Less Space / More Productivity
As an automotive professional, you know the challenges of keeping a shop running safely and efficiently all too well. John Bean auto lifts help keep your workflow moving, prioritize operator safety, and are built to go the long haul.
Professional grade auto lifts should be easy to operate and allow technicians to quickly and safely get a car or truck off the ground to perform tasks such as alignment services or general repair and maintenance. Safety of the operator is paramount, and auto lifts should also have built-in features like a single-point safety lock to protect technicians. Auto lifts that are easy to maintain and constructed of quality materials ensure minimal downtime for your shop and years of reliable operation.  
Depending on your shop's needs, there are a variety of lifts that are specifically designed to help technicians get their work done efficiently and safely:
A two-post lift is a crucial part of your workflow for medium to high-volume general repair, tyre service shops and maintenance shops. These workhorses use a pair of posts located at opposite sides of the vehicle and heavy-duty, placeable arms to hoist a vehicle into the air. Crucially, these lifts allow the MOST access to wheels, suspension, and the underside of vehicles while taking up less space than a four-post unit. Available symmetrical and asymmetrical lifting options provide versatility when spotting a vehicle's pick-up points.
For high-volume tyre and repair shops that offer alignment services, a four-post lift is a crucial part of this extremely precise process. These auto lifts use 4 columns to lift a vehicle and utilize a drive-on design, vs. heavy-duty arms to secure the vehicle during the lift. Due to their secure design, and built-in alignment productivity features, four-post lifts work in concert with wheel aligners to perform this profitable service with ease.