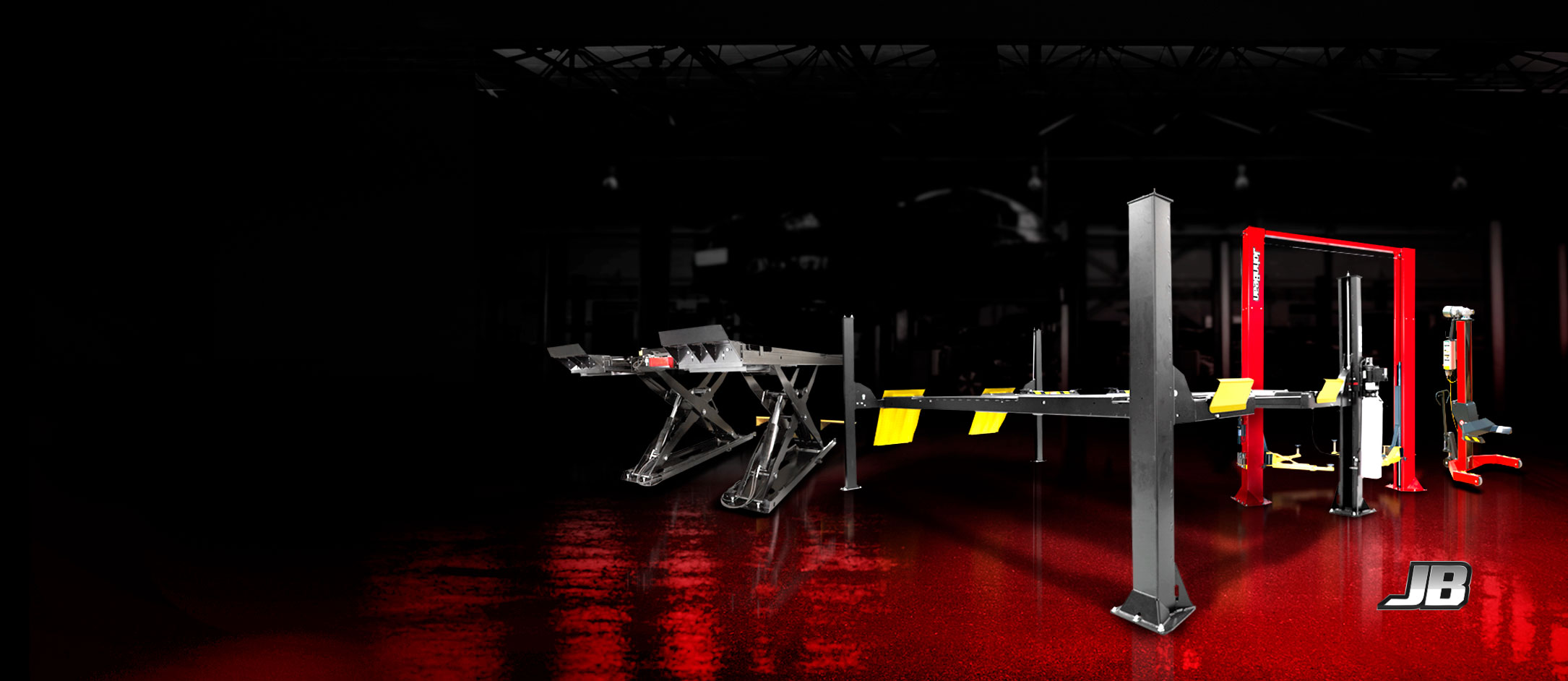 DURABILITY AND EASY OPERATION
Using the proper auto lifts in your garage is crucial for both efficiency and safety. Professional shops need the heavy lifting capability of a quality automotive lift that will allow technicians to quickly perform repair and maintenance tasks with a high degree of safety. Your lift equipment also needs to stand up to the rigors of daily usage and be constructed of quality materials that require minimal maintenance and less repair downtime.
John Bean® offers a selection of auto lifts that are designed to meet the needs of a wide variety of automotive professional applications and stand the test of time. From scissor alignment lifts to mobile column units; our machines do the heavy lifting, so you can get to work on your customer's vehicles with ease.
Less Space / More Productivity
As an automotive professional, you know the challenges of keeping a shop running safely and efficiently all too well. John Bean automotive equipment helps keep your workflow moving, prioritizes operator safety, and is built to go the long haul.
Professional grade lifts should be easy to operate and allow technicians to quickly and safely get a car or truck off the ground to perform tasks such as alignment services or general repair and maintenance. Operator safety is paramount and auto lifts should also have built-in features like a single point safety lock to protect technicians.
Our line of automotive lifts offer a variety of features including adjustable height extension, anti-sway systems, ultra-wide runways, and more. Auto lifts that are easy to maintain and constructed of quality materials ensure minimal downtime for your shop and years of reliable operation.
Depending on your shop's needs, there are a variety of lifts that are specifically designed to help technicians get their work done efficiently and safely.
For medium to high-volume general repair and maintenance shops, a two-post lift is a crucial part of your workflow. These workhorses use a pair of posts located at opposite sides of the vehicle and heavy-duty, placeable arms to hoist a vehicle into the air. Crucially, these lifts allow the MOST access to wheels, suspension, and the underside of vehicles while taking up less space than a four-post unit. Available symmetrical and asymmetrical lifting options provide versatility when spotting a vehicle's pick up points.
For high-volume tire and repair shops that offer alignment services, a four-post lift is a crucial part of this extremely precise process. These auto lifts use 4 columns to lift a vehicle and utilize a drive-on design, vs. heavy-duty arms to secure the vehicle during the lift. Due to their secure design, and built-in alignment productivity features, four-post lifts work in concert with wheel aligners to perform this profitable service with ease.
For commercial fleets, municipal vehicles, military vehicles, and other heavy-duty applications – the mobile column lift is a portable lift solution that is used in configurations of 2, 4, or 6 units to lift some serious loads. Available in wired and wireless models, these compact units utilize a technologically advanced suite of features such as self-leveling and electronic self-diagnostics to safely and securely raise large vehicles for service.
For professional repair shops that perform alignment services with limited shop space; compact flush-mounted scissor lifts are an attractive option for a variety of vehicle types. These space-saving vehicle lifts use a center support that fully collapses into the ground when not in use and allows for easy, unrestricted access around the vehicle during alignment services.