OEM TRUSTED EQUIPMENT: BUICK | CADILLAC | CHEVROLET | CHRYSLER | DODGE | GMC | HONDA | JEEP | KIA | MAZDA | RAM
14K Scissor Alignment Lift
For shops that regularly perform alignment services on a wide variety of vehicles, the John Bean® 14k Scissor Lift represents the ultimate in safety and precision.
Each feature on the John Bean 14k Scissor Lift helps to make the process of aligning vehicles more efficient, precise, and safer. Safety is a top priority for John Bean; the 14k Scissor Lift utilizes features like mechanical locking with a pneumatic safety lock, flow sensing valves, and a redundant hydraulic safety system. A 14,000-pound lifting capacity powered by four hydraulic cylinders gives the power to hoist up everything from a passenger vehicle to a heavy-duty truck.
The Locked & Lighted model provides additional productivity features to make the 14k Scissor Lift the ultimate tool for any alignment job. Our low-maintenance rear slip plates contain an encapsulated bearing system that minimizes the entry of debris. The approach ramps with end sliders minimize costly floor damage while reducing noise in the shop.
The John Bean 14k Scissor Lift is a space-saving alignment lift ready to serve your shop's alignment needs.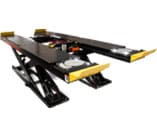 EELR594APKG:
Standard Bay, Flush Mount with Lights & Locks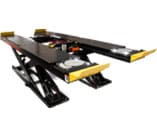 EELR590APKG:
Short Bay, Flush Mount with Lights & Locks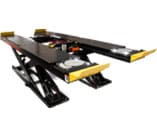 EELR593APKG:
Standard Bay, Surface Mount with Lights & Locks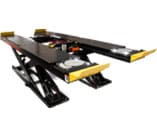 EELR589APKG:
Short Bay, Surface Mount with Lights & Locks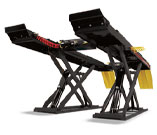 EELR592APKG:
Standard Bay, Flush Mount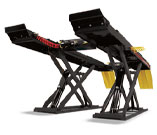 EELR588APKG:
Short Bay, Flush Mount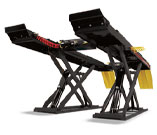 EELR591APKG:
Standard Bay, Surface Mount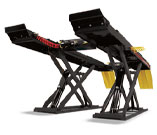 EELR587APKG:
Short Bay, Surface Mount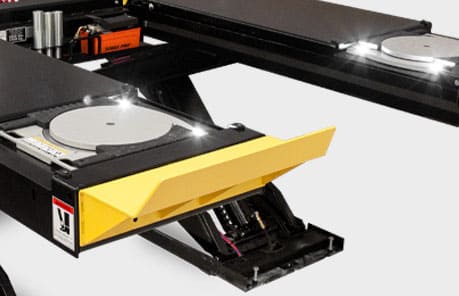 Locked & Lighted models provide enhanced performance allowing the technician to perform critical tasks while minimizing alignment process operations by illuminating inspection and adjustment areas and sequencing the locking of alignment plates.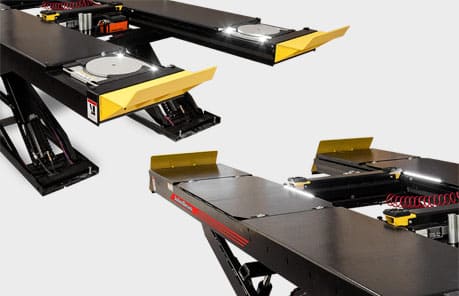 OPEN FRONT AND REAR CONSTRUCTION
Perform alignment and inspection services quickly and accurately and reduce technician fatigue with our open front and rear construction design. This productivity-boosting design allows technicians to enter the front or rear of the vehicle without stooping down to get under the lift structure.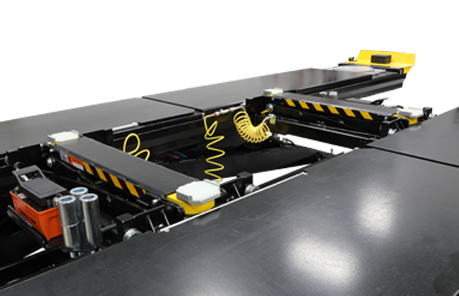 LOW-PROFILE ROLLING JACKS
Our new jack beam has extended-reach lifting arms, higher lifting stroke, and a low drive-over height. This jack can collapse and retract inside the runways to provide the best possible options for our premium alignment lifts.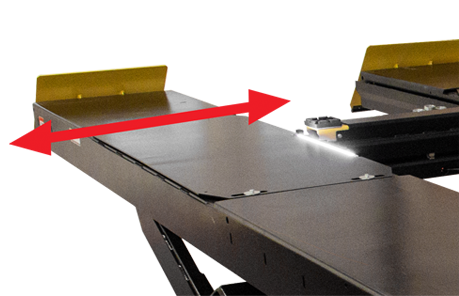 Precisely perform alignment procedures on wide wheelbase vehicles with our 26-inch, pro-style runways.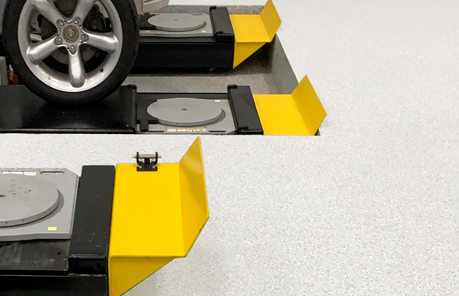 FLUSH OR SURFACE MOUNT INSTALL
Shops tight on space will appreciate our precision-built auto lifts designed for a flush-mounted installation that can recess right into the floor when not in use.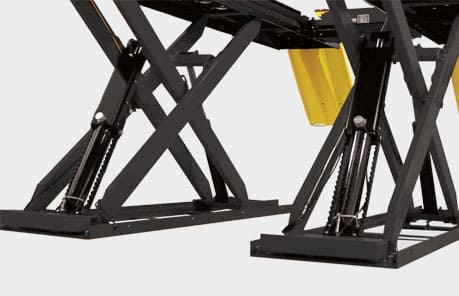 Ensure the ultimate in alignment precision with our robust scissor lift locking system that includes mechanical locking with pneumatic safety release, flow sensing valves within the hydraulic control circuit, and a redundant hydraulic safety system with cross-aligned hydraulic circuits.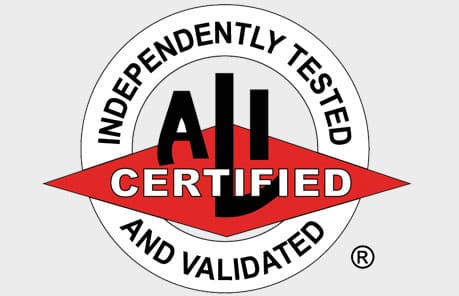 Our lifts are certified in accordance with the requirements of the Automotive Lift Institute's ETL Certification Program.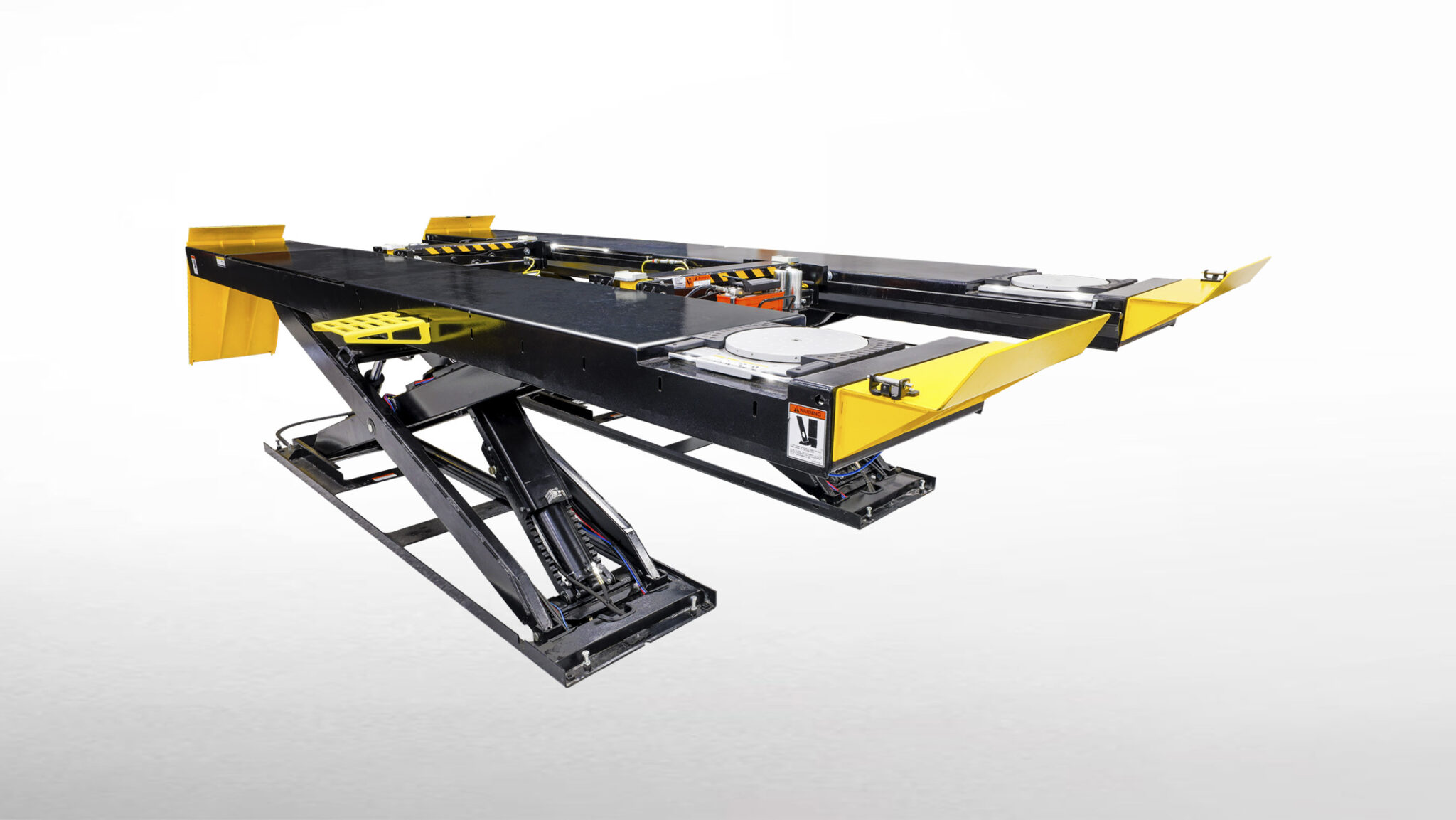 EELR593APKG: Standard Bay / Surface Mount L&L
EELR591APKG: Standard Bay / Surface Mount
EELR594APKG: Standard Bay / Flush Mount L&L
EELR592APKG: Standard Bay / Flush Mount
EELR589APKG: Short Bay / Surface Mount L&L
EELR587APKG: Short Bay / Surface Mount
EELR590APKG: Short Bay / Flush Mount L&L
EELR588APKG: Short Bay / Flush Mount
Surface Mount: 72″  |  183cm
Flush Mount: 63″  |  160cm
230V 1Ph 60 Hz 20A 2HP | 1.5kW
Minimum Recommended Bay Size WxL
Standard: 16′ x  33′  |  488-1006cm