OEM TRUSTED EQUIPMENT: BUICK | CADILLAC | CHEVROLET | CHRYSLER | DODGE | GMC | HYUNDAI | JEEP | KIA | LEXUS | MAZDA | RAM | TESLA | TOYOTA | VOLVO
V2400 Imaging Wheel Alignment System
We've packaged productivity-enhancing software that's designed to be flexible along with helpful technology that's designed to reduce customer comebacks and boost alignment revenue. 
The John Bean® V2400 wheel aligner combines advanced software that can be easily customised per alignment procedure to work with modified vehicles or with more traditional designs to easily fit into your shop's workflow.
Working along with our smallest, lightest XD targets, touchless AC400 wheel clamp system, and high-resolution cameras, our easy-to-use software allows technicians of all skill levels to quickly and accurately perform alignment services even on vehicles with aftermarket wheels and tyres. Features like EZ-Toe and VODI™ instantly boost technician productivity, while advanced measurements ensure that the vehicle is correctly aligned the first time. All this adds up to a wheel aligner that provides speedy, accurate alignments with less potential for customer comebacks.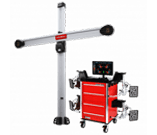 V2400 Lift AC400 (EEWAEU546H2)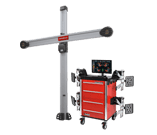 V2400 Lift AC100 (EEWAEU546G2)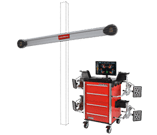 V2400 AC400 (EEWAEU546H1)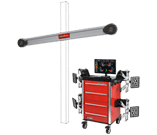 V2400 AC100 (EEWAEU546G1)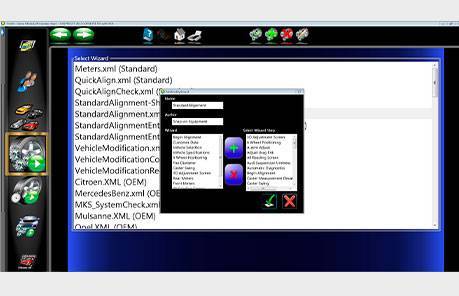 CUSTOMISABLE ALIGNMENT PROCEDURES
Easily modify alignment procedure flow by selecting the steps needed to perfectly meet the exact needs of your shop.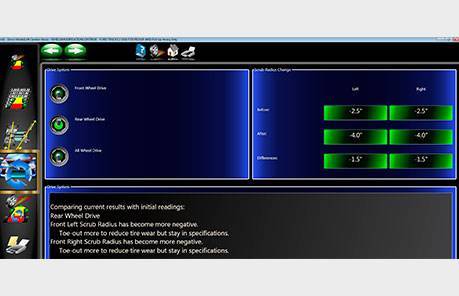 Ensure accurate alignment for vehicles that have modified OEM specifications with our advanced alignment software that allows for effortless changes in procedure flow.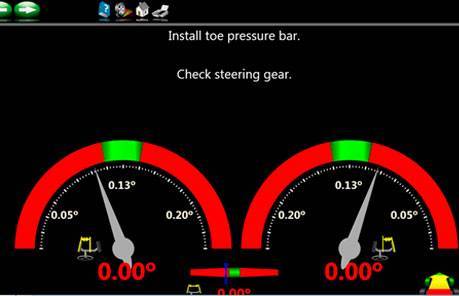 The software provides the recommended procedures defined by the manufacturer and indicates the correct clamps for an accurate OEM-specified wheel alignment.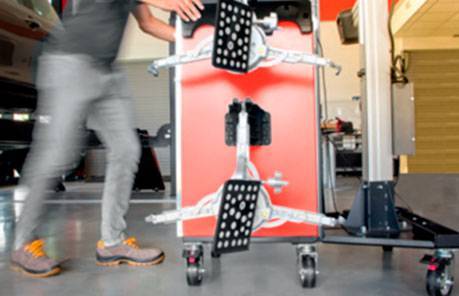 The optional kit allows you to mount the cross-beam to the cabinet for flexible installation and usage, enabling you to move the system around the shop freely and out of the way as needed.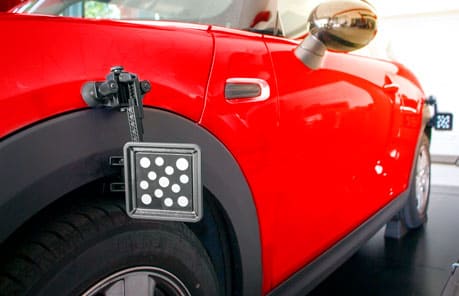 Eliminate manual data entry, speed up measuring, and increase accuracy using our specially designed, optional Ride Height Targets.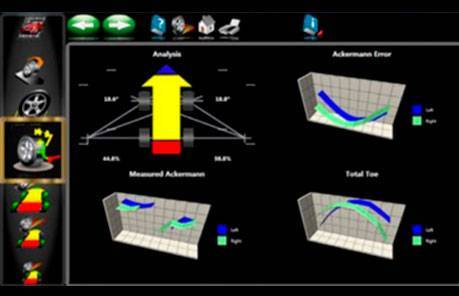 Measurements designed for advanced suspension troubleshooting and modified suspensions, including advanced ride height entry, pro-Ackerman, graphical caster trail, scrub radius, and SAI.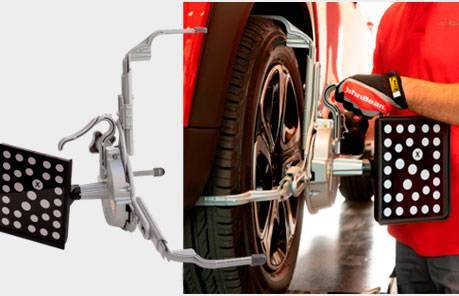 The clamp attaches to the tyre with optimal force without touching the rim; ensuring a safe, fast, and consistent clamping experience.
Fast and easy to use with self-centring design, two-sided claws provide reliable clamping, even over hub caps.