OEM TRUSTED EQUIPMENT: BUICK | CADILLAC | CHEVROLET | CHRYSLER | DODGE | RAM
15K Four-Post Alignment Lift
Efficiently work on more vehicle types with the John Bean® 15k Four-Post Lift.
Are you looking to work on a variety of vehicles at your shop? The John Bean 15k Four-Post Lift can handle everything from dual-wheel, heavy-duty trucks to compact sedans and SUVs. This incredibly durable lift has features like an ultra-wide column clearance, 26-inch pro-style runways, open-front cross beam, and enhanced rear slip plates to optimize the task of aligning a wide variety of vehicle sizes.
Certified by ALI to meet the most stringent ANSI requirements, this is a lift that will provide years of durable, fault-free operation to your shop.
Increase revenue and customer base with the John Bean 15k Four-Post Alignment Lift.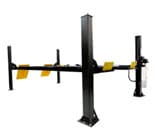 EELR506LLPKG:
Extended Length, with Lights & Locks, maximum wheelbase 210.5" | 535cm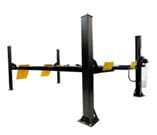 EELR506A PKG:
Extended Length, maximum wheelbase 210.5" | 535cm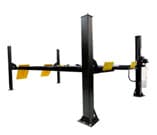 EELR504LLPKG:
Standard Length, with Lights & Locks, maximum wheelbase 183" | 465cm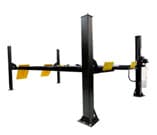 EELR504APKG:
Standard Length, maximum wheelbase 183" | 465cm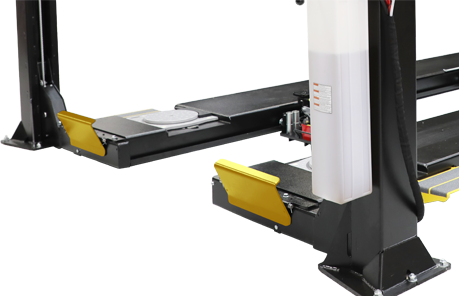 Easily access service areas and enjoy optional lighting kits that make performing adjustments quick and efficient. Versatile front wheel stops are specially designed to meet ALI requirements and accommodate ultra-low profile, long vehicles.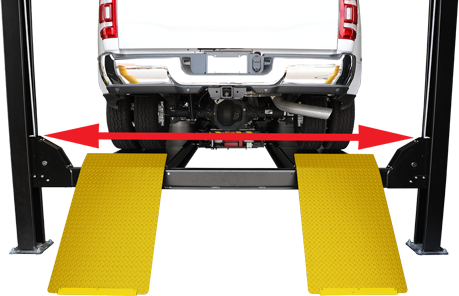 WIDER REAR COLUMN CLEARANCE
Enjoy the convenience of wider rear columns with a full 120 inches of drive-on clearance and 125 inches of body clearance. The John Bean 15k Four-post lift allows heavy-duty, dual-wheel trucks to drive on with ease.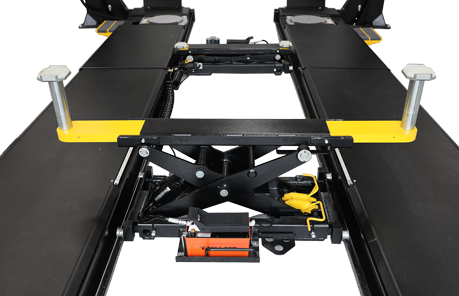 LOW-PROFILE ROLLING JACKS
Our new jack beam has extended-reach lifting arms, higher lifting stroke, and a low drive-over height. This jack can collapse and retract inside the runways to provide the best possible options for our premium alignment lifts.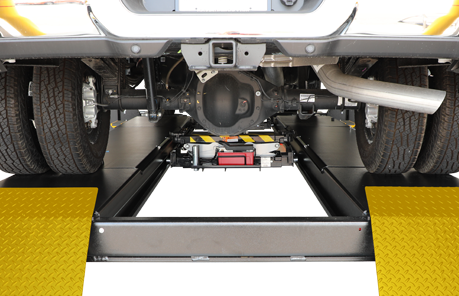 The John Bean 15k Four-Post utilizes a best-in-class 26-inch wide runway to easily accommodate wide-track vehicles. Low-profile vehicles won't present a problem with an "easy-on" ramp and 8-inch lowered height.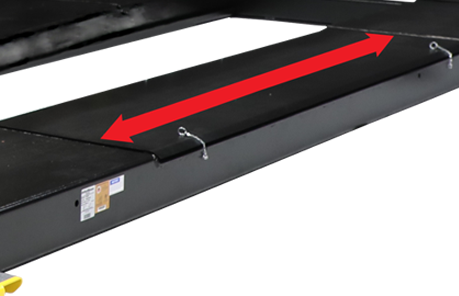 ENHANCED REAR SLIP PLATES
Extra-long 100-inch rear slips plates for improved four-wheel alignment capabilities on both long and short wheelbase vehicles. A flush-mount, full-floating slip plate with Delrin® polymer ball-transfer unit is engineered for both low-maintenance and high-performance.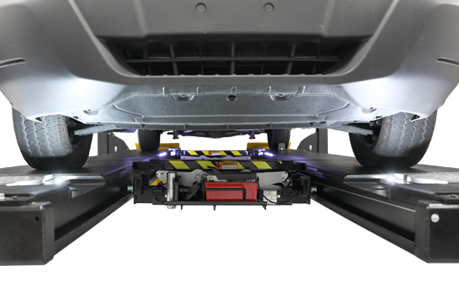 Locked & Lighted models provide enhanced performance allowing the technician to perform critical tasks while minimizing alignment process operations by illuminating inspection and adjustment areas and sequencing the locking of alignment plates.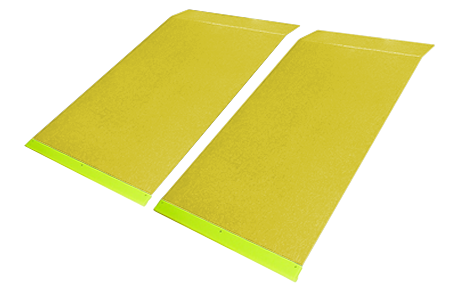 Equip your lift with an extra set of ramps that allow vehicles to exit from the front without resorting to backing up.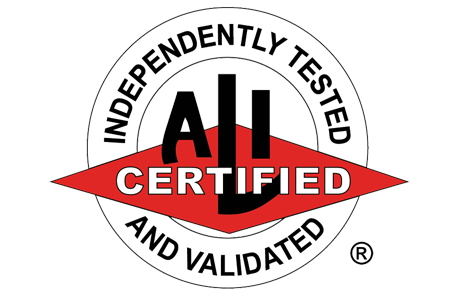 Our lifts are certified in accordance with the requirements of the Automotive Lift Institute's ETL Certification Program.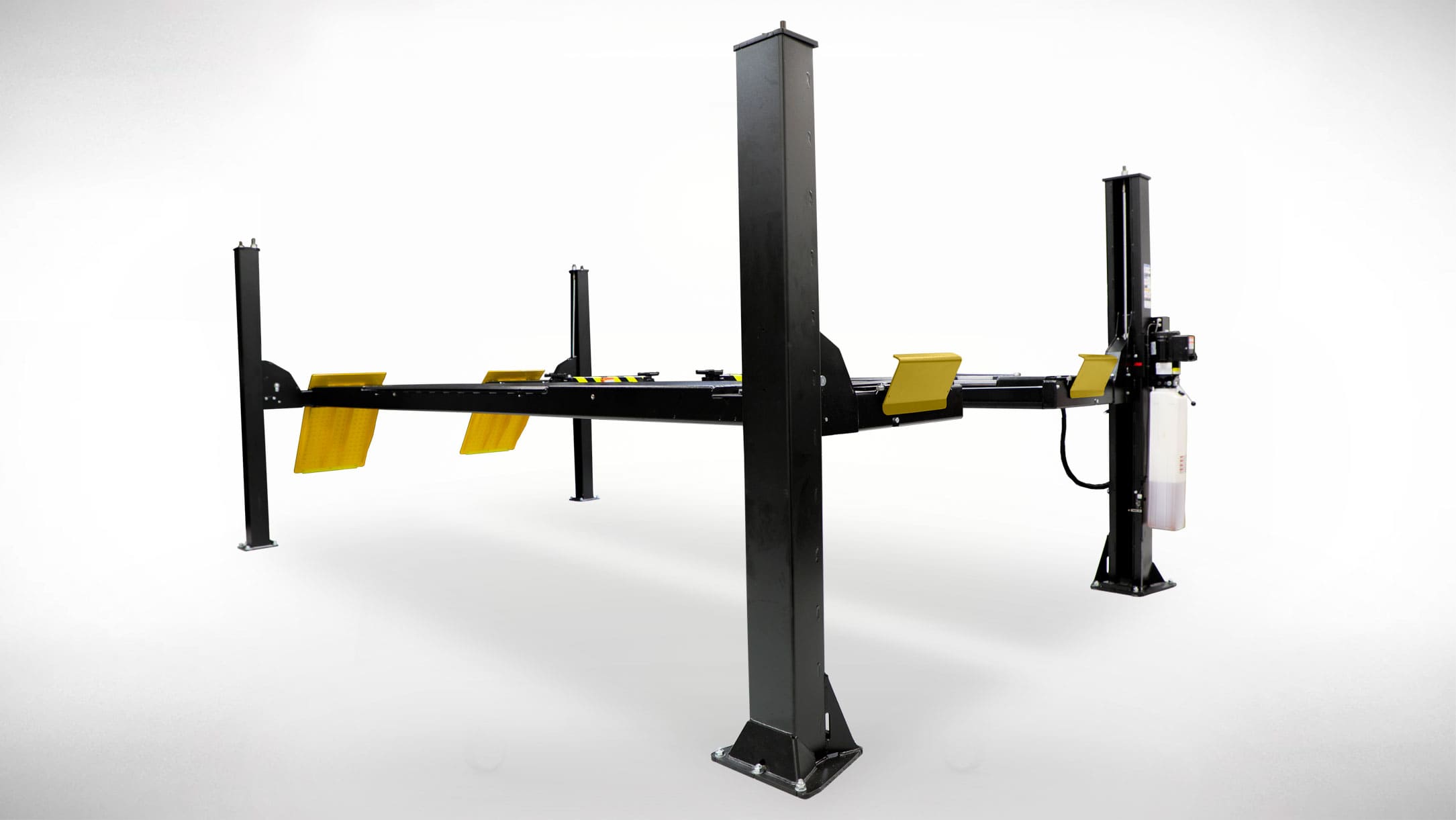 EELR504APKG: Standard
EELR504LLPKG: Standard – L&L
EELR506APKG: Extended
EELR506LLPKG: Extended – L&L
Standard: 99″  |  251cm
Extended: N/A
Surface Mount: 78″  |  198cm
Flush Mount: N/A
208-230V 60 Hz 1Ph 30A 3HP | 2.2kW
Minimum Recommended Bay Size WxL
Standard: 14'x24′  |  427-732cm
Extended: 14'x26′  |  427-792cm